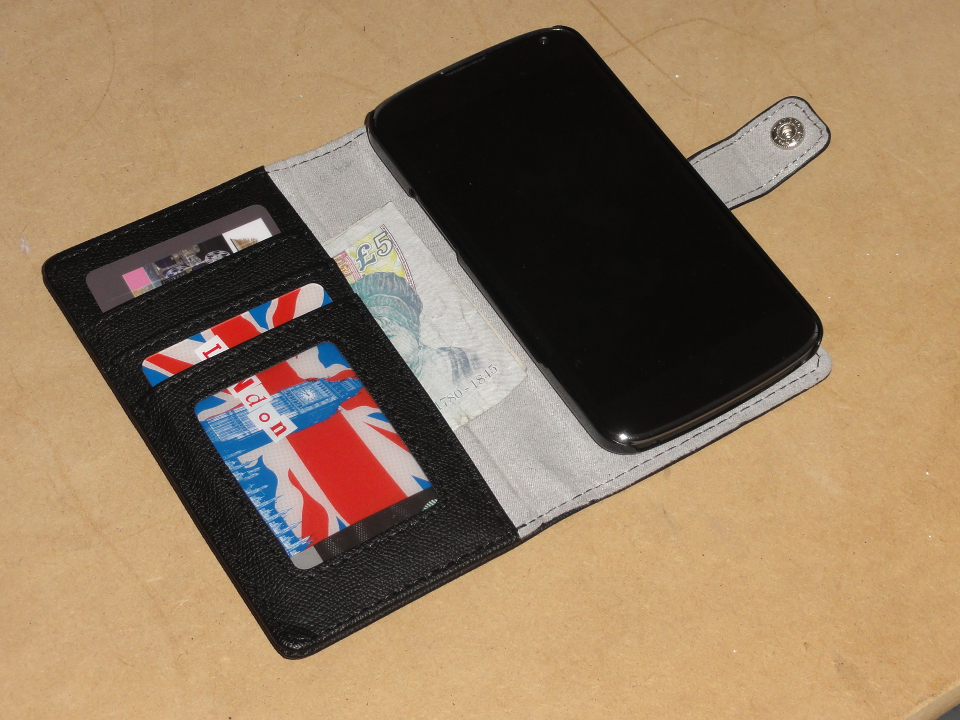 The Leather Style Wallet/Stand Case for the Nexus 4 is quite a unique case. It is, you guessed it, a case, a stand and a wallet. This case covers both the front and back of the phone. It has a leather look to it, and the outer surface is quite hard with little flex to it. It sounds like a good idea. You can have your phone, credit card, driving licence and a bit of spare cash, all in one place. Besides that, with this case, you can watch a video on your phone without having to hold it.
The wallet part of this case has three slots for your standard sized cards. The first slot has a transparent window in it, to keep proof of ID. The second slot can keep a whole card hidden. That might be used for a card you don't use very frequently but still want access to it. The third slot is slightly shorter than a credit card, and a small bit of the card in that slot sticks out for quick access. Behind the card slots, there is a larger area for a bit of cash, keys, or anything else that will fit in that area.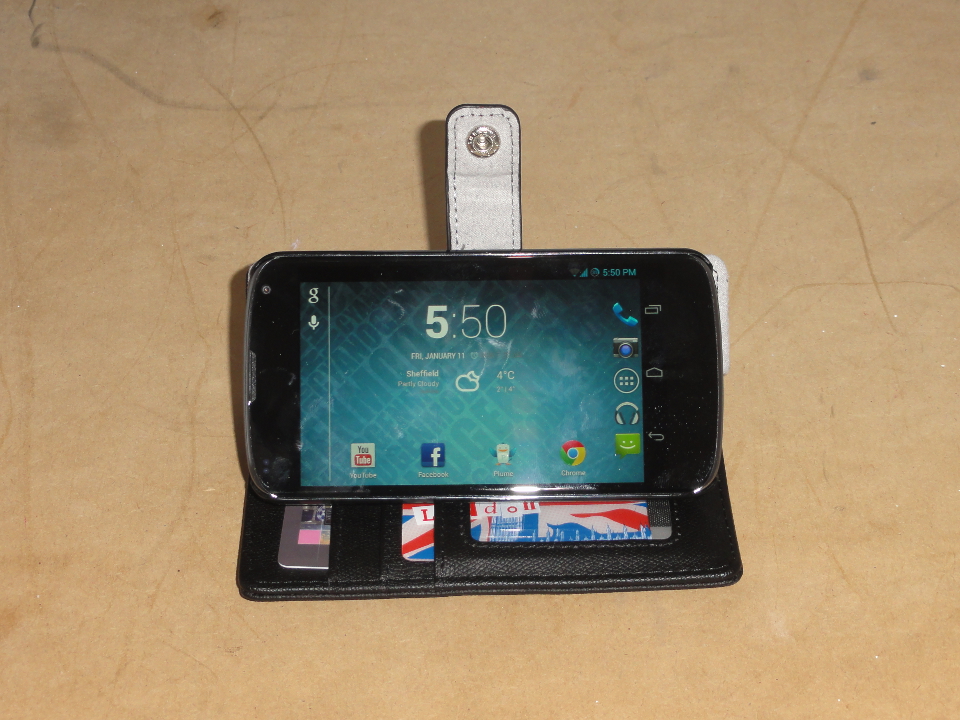 To use the case as a stand, you flip it open and rest the side of the phone on top of the card slots. There is a fold on the back of the case, to allow the phone to tilt for different viewing angles. The angle of the phone can be adjusted from being nearly perpendicular to the desk, to being at an angle of around 30˚. To use the homescreen in landscape mode, a 3rd party launcher, such as Apex Launcher or Nova Launcher, can be installed on the phone. Both those launchers are free and have an option for enabling automatic rotation in the settings.
This case is excellent for using the Nexus 4 in landscape mode on a desk, or on the arm of a sofa. However, using the phone in portrait mode is a bit awkward. The only way to use the phone in portrait mode in one hand is to flip the front cover behind the phone. This adds a lot of thickness to the phone, making it awkward to hold. Although getting used to it is pretty quick, using the phone without a case simply feels better. Besides that, flipping the front cover to the back of the phone blocks the camera.
I would recommend this case for people who mostly use their phone for watching videos. It is also good for people who keep their phone and their keys in the same pocket, as this case will prevent the screen from being scratched. The Leather Style Wallet/Stand Case is available in black or blue, and it can be purchased from MobileFun.co.uk, under Nexus 4 cases.
Posted on Wednesday 9th January 2013 - Leave a comment