Back in February, I wrote a blog post about which smartphone you should get, with the thought of helping the average user make a decision on what they should buy. However, since then, there have been many new devices and announcements. I think this is something I should write about every few months. Besides, let's face it; I didn't have my writing style put together back then.
Since the last post I wrote, HTC announced the One series with Sense 4. 6 months later, they announced their revision of  the One X with Sense 4+, as well as the J Butterfly and Droid DNA, with 5-inch 1080p displays. Samsung announced the Galaxy S III and the Galaxy Note II. And perhaps most importantly, Apple announced the iPhone 5 and Google announced the Nexus 4 by LG.
First, let's look at the iPhone 5. This is one of the biggest changes Apple has made to the iPhone. The first thing you will notice is the larger display, compared to all previous iPhone generations. This phone is incredibly light and feels great in the hand. The power button is a bit hard to reach, as it is on the top of the phone. However, this is the only real design flaw.
Besides the redesign, Apple made many changes to the internal hardware. They gave it the custom built Apple A6 dual-core processor and 1GB of RAM to make it nice and snappy. This hardware may not sound like much when compared to high end Android phones, but Apple spend a lot of time optimising iOS for the hardware it is running on and, in many cases, iOS is faster and smoother than Android.
Although the iPhone is a great device, it easily has its share of flaws as well. Most of the flaws are in the software. Everyone is familiar with iOS and knows how to use it. However, the user interface hasn't evolved much since the original release, 5 years ago, and it is starting to get boring. iOS has the same unlock slider it has always had, and the homescreen is still just a grid of icons.
Average users generally won't have a problem with the fact that the iOS user interface hasn't ever really changed. While some people consider the user interface in iOS to be boring, a lot of people think of it as familiar. The average user doesn't want to learn a new user interface every time they get a new phone, and this is harder for them than it is for geeks like me.
There are problems with iOS that will be noticed by the average user. Apple's Maps application, introduced in iOS 6, was a big fail. Although it will get fixed eventually, users currently have to rely on third party alternatives. Besides that, when Apple add a new system app to iOS, it is on your home screen forever. It can usually be hidden away in a folder, but there is no way to remove it.
Overall, the iPhone is the best phone for the average user. Despite the flaws, iOS provides users with a great experience. The App Store has all the apps that everybody has heard of, and new iPhone users get access to iCloud and the iTunes Store. However, an iPhone costs quite a lot, with the iPhone 5 priced at £529, or $649. With that price tag, someone on a budget might consider buying a cheap Android phone, such as the LG Optimus L3.
The LG Optimus L3 is by no means a power house. It has a single-core 800 MHz processor and 384 MB of RAM. Not to mention, this phone has a QVGA 320×240 screen. However, it should be just fine for a first time smartphone user. You could probably get hold of this phone for under £50, if you know where to look.
This phone will never see an official update to any version of Android past 2.3, and any unofficial ports on this phone will likely be slow with little hardware support. However, it is still running a version of Android that will let you install many of the apps currently on the Google Play Store.
Android is a great mobile platform, and it is not made for entry level devices like the Optimus L3. This phone doesn't have a front facing camera for video calls, and the camera on the back is by no means anything special. If you try this phone out and like the software, but want a bit of a hardware upgrade, you may want to consider buying a Nexus 4.
The Nexus 4 is built by LG and sold by Google. This phone is a real power house, with a quad-core Snapdragon S4 Pro CPU clocked at 1.5 GHz. This phone is a great option for people who want the latest and greatest software on their phone as soon as possible. This phone is also priced very reasonably, at £239 for the 8GB model and £279 for the 16GB model.
This phone is running Android 4.2 Jelly Bean without any customisations from the manufacturer or bloatware from your network. Because of that, this phone will get immediate updates to future versions of Android, straight from Google.
This phone has excellent external hardware. It has high quality Corning® Gorilla® Glass 2.0 on both sides, and great feeling soft touch rubber around the edge. The back of the phone has a design that reflects light when you look at it from different angles, to keep things interesting.
Besides what the average user will notice, this phone is excellent for hackers and developers. It has an easily unlockable bootloader for installing custom Andriod builds. However, the number one reason for getting a Google phone is the attention it will get from developers. Even after Google stop supporting this phone, it will continue to be  updated by the developer community until the hardware simply can't work with the software, and with a quad-core processor, that might take a while.
If you don't care about the latest version of Android, and you just want high quality hardware that will last a while, you may want to consider an HTC One S. It has an aluminium unibody design and an excellent camera that can shoot video and take pictures at the same time.
The One S comes with Android 4.0 with HTC Sense 4 out of the box. HTC are currently rolling out the Android 4.1 update which comes with HTC Sense 4+. HTC Sense provides the user with a nice looking user interface and loads of excellent widgets to make your home screen more functional.
Like all phones, the One S isn't without its flaws. The animations in HTC Sense make every day tasks slower. The default internet browser in particular has plenty of room for improvement, as it is lacking in features. Besides the software problems, this phone is overpriced, costing around £300 on Amazon.
This phone is overall not the best for average users. However, it is a terrible device for developers. HTC allow users to unlock the bootloader on the One S, but they have a funny way of doing it that makes it hard for users to flash a custom recovery or most custom ROMs without the use of a computer. Anyone thinking of buying an HTC One S should consider the Nexus 4.
If you don't care about look and feel, and you just want a phone with as much functionality as possible out the box, you may want to consider the Samsung Galaxy Note II. This phone has a massive 5-inch 720p display and software  to take advantage of the screen size.
Like the Nexus 4, this phone has a powerful quad-core processor and 2GB RAM. However, unlike the Nexus 4, this phone has the software to take advantage of the hardware. This phone will allow you to achieve true multitasking by running multiple apps on the screen at once.
This phone also has an internet browser which can run in its own window, above what you are currently doing. And finally, this phone has a stylus called the S-Pen which can be used for drawing things with ease. It even allows you to take screenshots and write on top of them.
Although the Galaxy Note II is a great device, it also has some flaws. Some people like the look and feel of the software running on it, but I always thought TouchWiz looked a bit ugly. This phone is also a bit too big for one handed use. Besides that, this phone costs over £400.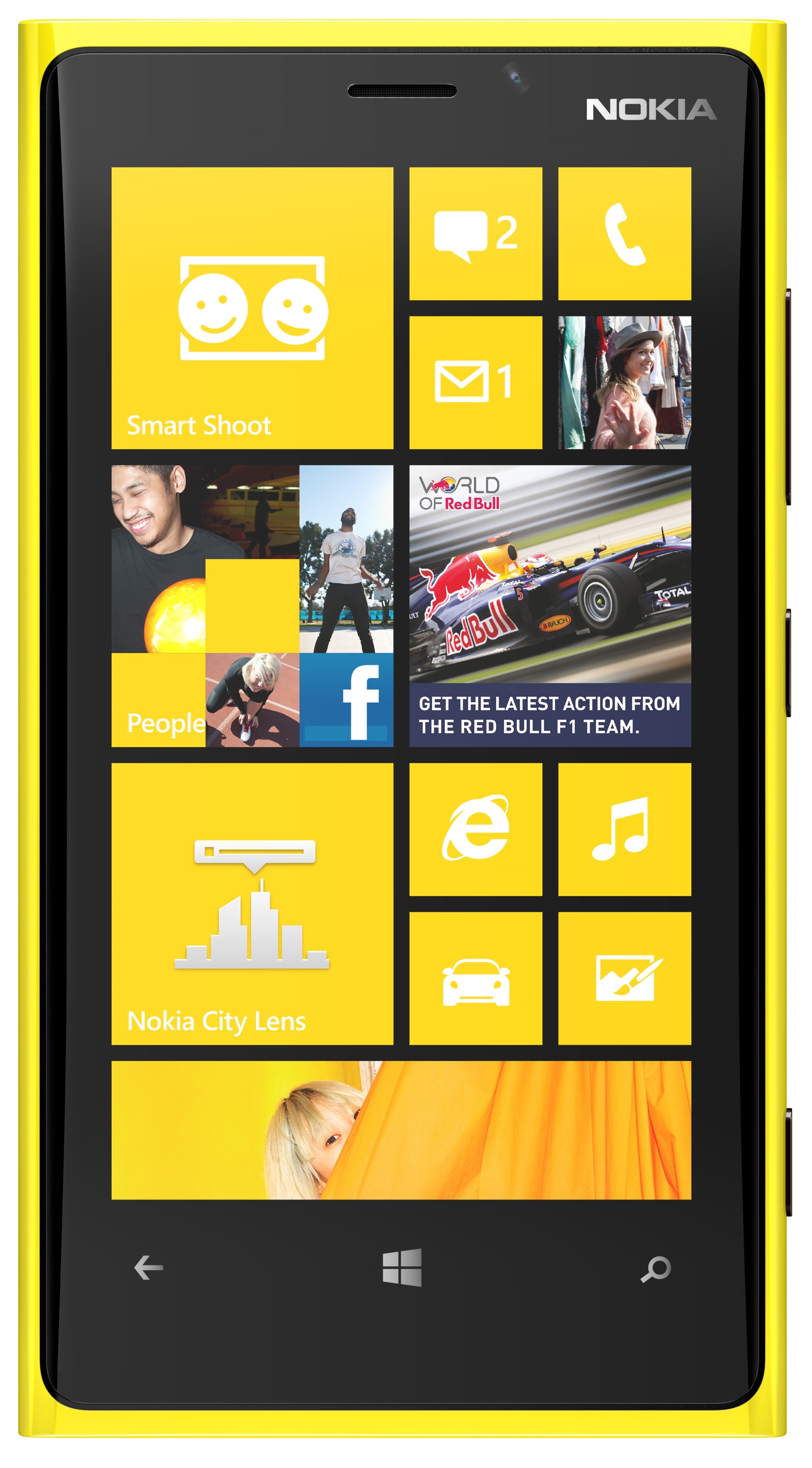 In case you are starting to get bored of looking at Android phones, let's take a look at Windows Phone 8. Windows Phone 8 has a very unique user interface. All the Windows Phone devices seem to be pretty similar, as they all run on the same software. However, I think the Nokia Lumia 920 provides the best experience of Windows Phone 8, mainly because of the screen size.
This phone has a 4.5-inch display with a resolution of 1280×768. This means that you get the combination of a fairly large screen, an incredibly high pixel density and easy enough one handed use. This phone comes in several different colours, including red, blue, yellow, white and black, to stand out from other smartphones.
One small touch found with all Windows Phone devices is a dedicated camera button. I don't know why you don't get this on the iPhone, or even most Android devices. This isn't a big deal for most users, but it is weird and slightly annoying to see that only Microsoft thought to include a camera button as a hardware requirement for Windows Phone.
Like all phones, the Nokia Lumia 920 also has its share of flaws. The corners of the phone aren't rounded, which will make it awkward to hold the phone from the top or bottom ends. Some people don't like the user interface of Windows Phone, and even my dad says this look and feel reminds him of Ikea.
Apart from that, this phone is currently exclusive to EE in the UK. They are currently the only 4G LTE network, but because of that, they have the most highly priced data plans, including £41/month for 1GB of data. This defeats the purpose of LTE. This technology is there so we can stream movies to our phones during long train journeys without stutter or lag, but on average, just one movie will eat up all your mobile data allowance for that month.
In conclusion, there are many devices to choose from. All these phones will work just fine for the average user, with the iPhone being the best for that overall. However, the Nexus 4 and Galaxy Note II are the best phones for hackers, developers and power users. The Optimus L3 is good for average users on a budget, and the One S is good for people who only care about the look and feel of the software. The Nexus 4 is my favourite of those six devices, and it is the phone I'm getting.
Posted on Wednesday 19th December 2012 - Leave a comment